Amaircare 3000
The Environment Creator

H.E.P.A./ V.O.C. Filtration - 99.97% Efficient
Removes Chemical Gases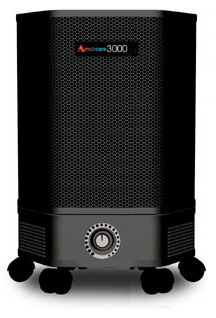 This powerful machine is great for large rooms or to use as a central unit in a home or office. It has a variable speed motor so you can turn it up to clean the air quickly and lower it when you need to. Moving the unit around is easy because it's mounted on smooth glide casters. By adding the optional activated carbon/zeolite canister the 3000 literally makes odors vanish! The 3000 sleek design comes in white or jet black and blends in anywhere .
Availability: Usually
ships within 24 hours.
Our Price:$695.00

Features:

Approved by: Underwriter's Laboratory and the Canadian Standards Administration
Integrated seals top and bottom: Prevents leaks; ensures that all air gets cleaned

HEPA Filtration removes 99.97% of airborne particulates to 0.3
microns

High-efficiency, motors: Energy efficient, inexpensive to operate

Variable speed control: Lets you choose the setting you want

Three-stage filtration: Ensures removal of large and sub-micron particles, plus harmful vapors, gases and volatile organic compounds (VOCs)
| | |
| --- | --- |
| Model: | Safe Zone 3000 |
5 Year Warranty On
HEPA Motor Systems
Related Accessories
Odor Removal
12 pound Activated Carbon /Zeolite canister, fits inside unit. Great for removing Odors.
Customer Reviews
Write an online review for this product.







I love my Safe Zone 3000!
Reviewer: Nails by Amy from Canton, Ohio USA
April 2, 2000

I bought the Safe Zone 3000 for my in home nail salon (very smelly!) and I love it! I used to have just your average HEPA filter system and it just wasn't getting the job done. I haven't been able to smell any nail odors since plugging in my 3000 and that is great news for me and my family! If this filter works this good for me, I can only imagine what it can do for just average household odors!